Buss-SMS-Canzler at INCHEM Tokyo 2023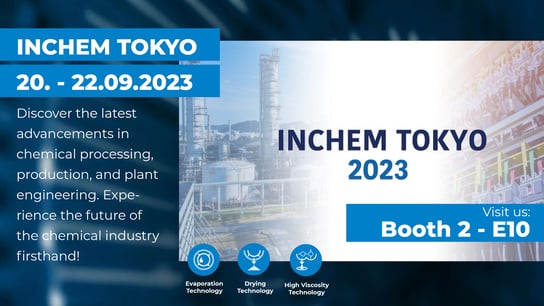 20. - 22. September 2023, Tokyo
Venue: TOKYO BIG SIGHT East Hall | Location: Booth number 2-E10
INCHEM TOKYO, taking place from September 20th to 22nd, 2023 in Tokyo, is a highly regarded B to B exhibition showcasing the latest advancements in chemical processing, production, and plant engineering. Since its inception in 1966, this event has established itself as a prominent business platform for the chemical industry in Japan.
Buss-SMS-Canzler stands as the leader in thin film evaporation technology and is globally recognised for its expertise in evaporation, drying, and high viscosity technology. Our team specialises in developing and constructing cutting-edge plants and equipment for the evaporation, drying, and processing of highly viscous materials. Our solutions are tailored precisely to your needs, ensuring exceptional precision, efficiency, and if required, innovative approaches.
SMS offers an unparalleled range of thin film evaporators and customises equipment specifically for the evaporation of challenging materials such as viscous, fouling, and heat-sensitive products. To address unique requirements, SMS combines and adapts drying processes and components to suit the properties of the product, enabling the safe and efficient processing of substances that may be toxic or explosive.
SMS thin film processors and large volume reactors for the production and preparation of polymers are at the forefront of the industry, delivering unmatched levels of quality, efficiency, and exceptional process outcomes.
Our highly experienced specialist will be available to offer valuable insights and address any inquiries you may have, ensuring that you receive the utmost value from your visit to INCHEM TOKYO.