Buss-SMS-Canzler at Pollutec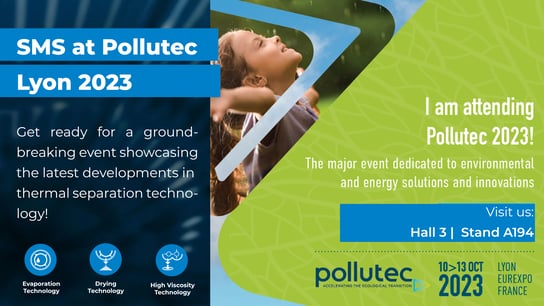 10 - 13 October 2023, Lyon.
Are you ready for an exciting event in Lyon? Buss-SMS-Canzler will be participating in the Pollutec trade fair from 10 to 13 October 2023. This is a fantastic opportunity for you to gain valuable insights into thermal separation technology. Our experts in evaporation, drying, and polymer processing will be available at our booth to address any questions you may have about efficient equipment and resource-saving process control. At Pollutec environmental and recycling trade fair, we will showcase our cutting-edge technologies that go beyond standard equipment. Whether you are interested in drying natural materials such as fillers and solvent-contaminated waste, handling wastewater sludge from municipal wastewater treatment, or evaporating sticky and viscous but valuable humins- and natural material mixtures, SMS offers diverse and intelligent solutions for your specific needs. Don't miss the chance to visit our booth and discover how Buss-SMS-Canzler's 60 years of experience can benefit your upcoming projects. We are excited to meet you and discuss how our innovative solutions can elevate your industry.
Buss-SMS-Canzler participera au salon Pollutec du 10 au 13 octobre 2023. Nos experts dans le domaine de la technologie de séparation thermique dans le secteur de l'évaporation, du séchage et du traitement des polymères vous aideront à répondre à vos questions sur l'efficacité des équipements et le contrôle intelligent et économe en ressources des processus dans le hall 3, stand A194. Au salon de l'environnement et du recyclage Pollutec, nous présentons nos technologies de pointe qui vont au-delà de l'équipement standard des sécheurs et évaporateurs conventionnels. Qu'il s'agisse du séchage de substances naturelles telles que des charges et des déchets contaminés par des solvants, de la manipulation des boues d'épuration provenant du traitement des eaux usées municipales ou de l'évaporation de mélanges de produits humiques et naturels collants et visqueux mais précieux: SMS propose des solutions et des concepts variés et intelligents pour vos besoins spécifiques. Ne manquez pas l'occasion de visiter notre stand et d'apprendre comment les 60 ans d'expérience de Buss-SMS-Canzler peuvent bénéficier à vos projets à venir. Nous sommes impatients de vous rencontrer et de discuter de la façon dont nos solutions innovantes peuvent faire progresser votre industrie.